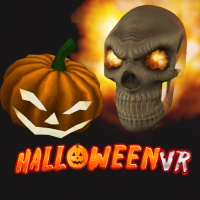 Install

Add to my wishlist


3
Select a device. You need to be logged into the Store Mvr application on the selected device to download the product.


System requirements
Supports generic Cardboards ()
: (Google Cardboard, VXmask, Dive, Lakento, Homido, VR Box, SimpleVR, Noon, Tendak, Afunta, Terios, Durovis, ...)
Description
It's Halloween... try to survive the evil spirits with slingshots of candy!
Automatic shot: just focus on the spirits with the peephole and the slingshot will start throwing deadly candy.
Download and play this virtual reality 3D game with a great horrific atmosphere.
Show more
Detailed Information
Languages
English, Spanish
Min. Android version
Android 4.1,4.1.1
Developer
Reviews
4.0


3
Write a review