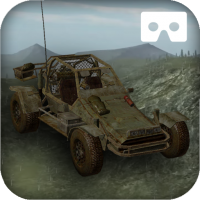 Install

Add to my wishlist


2
Select a device. You need to be logged into the Store Mvr application on the selected device to download the product.


System requirements
Supports generic Cardboards ()
: (Google Cardboard, VXmask, Dive, Lakento, Homido, VR Box, SimpleVR, Noon, Tendak, Afunta, Terios, Durovis, ...)
Gamepad
Mid - high end mobile device
Description
This virtual reality racing game challenges you through terrains and hills that will test your driving skills at day and night.
Be quick! You only have 30 seconds of fuel...
Requirements:
- Gyroscope
- Compatible VR glasses (VXMASK, Lakento, Durovis, Google Cardboard, etc.)
- Controller device for driving the buggy
- A high-end mobile device is recommendable for optimal performance
Show more
Detailed Information
Min. Android version
Android 4.1,4.1.1
Developer
Reviews
4.0


2
Write a review