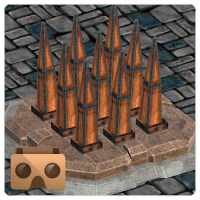 Install

Add to my wishlist


2
Select a device. You need to be logged into the Store Mvr application on the selected device to download the product.
System requirements
Supports generic Cardboards ()
: (Google Cardboard, VXmask, Dive, Lakento, Homido, VR Box, SimpleVR, Noon, Tendak, Afunta, Terios, Durovis, ...)
Gamepad with at least 4 buttons
Description
Traps Defense VR is a great FPS + Tower Defense game.
Use your ballista or build traps to destroy the evil orcs that try to take over the castle.
Featuring 4 types of traps: WallTrap, FloorTrap, FireTrap, BouncyTrap and TopTrap.
Gamepad/controller device controls:
- Button 1: select next trap in the inventory
- Button 2: start wave
- Button 3: show / hide traps inventory
- Button 4: shoot / put / recycle trap
Show more
Detailed Information
Min. Android version
Android 4.1,4.1.1
Developer
Reviews
3.5


2
Write a review