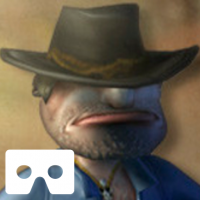 Install

Add to my wishlist


1
Select a device. You need to be logged into the Store Mvr application on the selected device to download the product.
System requirements
Supports generic Cardboards ()
: (Google Cardboard, VXmask, Dive, Lakento, Homido, VR Box, SimpleVR, Noon, Tendak, Afunta, Terios, Durovis, ...)
Description
Cowboy VR is a virtual reality + augmented reality game where you must fight against wild west bandits.
Features:
- Shoot at the power ups to collect them: gun barrel, coins, life bottle.
- Shoot at the bandits to kill them.
- Music by: Mano A Mano
- Print or use the following marker for moving the gun (not required for the game):
https://www.dropbox.com/s/psaxpktjbt0b7it/marker.jpg?dl=0
Show more
Detailed Information
Min. Android version
Android 4.1,4.1.1
Developer
Reviews
4.0


1
Write a review