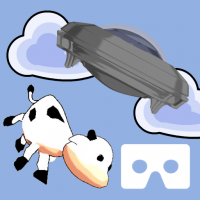 Install

Add to my wishlist


3
Select a device. You need to be logged into the Store Mvr application on the selected device to download the product.
System requirements
Supports generic Cardboards ()
: (Google Cardboard, VXmask, Dive, Lakento, Homido, VR Box, SimpleVR, Noon, Tendak, Afunta, Terios, Durovis, ...)
Description
You are an Alien and your mission is to steal all the cows from earth.
- The ad will show only ONCE at the beginning of the game
- Requires device with gyroscope and VR glasses : Google Carboard, Durovis Dive, FIBRUM , Gear VR, Lakento, ...
- Cartoon graphics
INSTRUCTIONS:
- Control the UFO moving your head with the vr glasses, no buttons or controller needed
- Pick up cows and drop them off at the portal. Get as many as you can before 60 seconds.
CREDITS:
Lluis Garcia
Jordan Swapp
Majd Abdulqadir
Show more
Detailed Information
Languages
English, Spanish
Current version
1.02 (101)
Min. Android version
Android 4.1,4.1.1
Developer
Reviews
3.5


3
Write a review