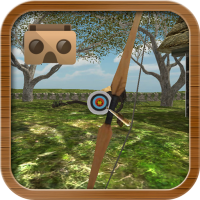 Install

Add to my wishlist


2
Select a device. You need to be logged into the Store Mvr application on the selected device to download the product.
System requirements
Supports generic Cardboards ()
: (Google Cardboard, VXmask, Dive, Lakento, Homido, VR Box, SimpleVR, Noon, Tendak, Afunta, Terios, Durovis, ...)
Description
Shoot arrows like Robin Hood in this great VR game set in a farm.
Focus on the bull's eye and shoot.
You'll need to consider the wind and distance to consistently score high!
Show more
Detailed Information
Min. Android version
Android 4.1,4.1.1
Developer
Reviews
3.5


2
Write a review