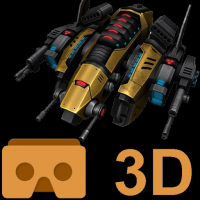 Install

Add to my wishlist


1
Select a device. You need to be logged into the Store Mvr application on the selected device to download the product.
System requirements
Supports generic Cardboards ()
: (Google Cardboard, VXmask, Dive, Lakento, Homido, VR Box, SimpleVR, Noon, Tendak, Afunta, Terios, Durovis, ...)
Description
mission: destroy all space fighters.
3 D VIRTUAL REALITY Space FPS games
'1 IN SPACE FREE Cardboard VR' Galaxy VR Cardboard games
Google Cardboard powered stereoscopic rendering and head tracking for mobile VR.
3D VR Space FPS games Cardboard
1 IN SPACE FREE - Best Simulator 3D
3 d cinema
3D game for android.
Sci-fi war action shooter.
Science-fiction space simulator.
The graphics are impressive and gameplay shows great potential, although it's currently a work in progress.
You can choose to control your spaceship using either a virtual joystick or Google Cardboard.
Use your device's gyroscope to play in 360 degrees.
Your phone must have gyroscope (not to be confused with the accelerometer).
Your phone must have a gyro (no accelerometer).
You really have to turn around to see what's behind you.
There are seven levels to play through, all of which must be unlocked progressively.
In the settings, you can adjust the sensitivity of the joystick.
In the settings, you can choose the level of difficulty: EASY, MEDIUM, HARD.
Copyright (c), Ryabov Eduard, 2014.
Show more
Detailed Information
Updated
November 25, 2015
Min. Android version
Android 4.1,4.1.1
Reviews
3.0


1
Write a review