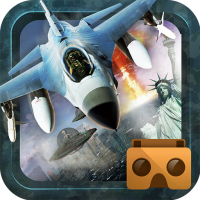 Install

Add to my wishlist


3
Select a device. You need to be logged into the Store Mvr application on the selected device to download the product.
System requirements
Supports generic Cardboards ()
: (Google Cardboard, VXmask, Dive, Lakento, Homido, VR Box, SimpleVR, Noon, Tendak, Afunta, Terios, Durovis, ...)
Description
Using any virtual reality (VR) Google Cardboard kit you can fly to the skies with your F16 and shoot down every Alien UFO as they intent on destroying our beloved cities.
Use the VR viewer to Play and shoot the flying Aliens UFO. Shoot the Aliens UFO as they fly over our beloved cities and stop them to invade us!
Requires any enabled Google Cardboards mobile virtual reality headset. Download Aliens Invasion VR and enjoy a real VR experience.
Features:
- Full 3D Experience and head tracking for mobile VR.
- Realistic Incredible graphics that create lifelike atmosphere for Paris,Pisa and New York.
- Easy to use controls
- Compatible with Google Cardboard
Your Fighting skills needed to save our beloved cities from Aliens who wants to terrorise Earth. Show the World your Strength and Save it from the unwelcome creatures.
Checkout our latest updates & News on our Official Facebook Page :
https://www.facebook.com/maysalward
Unless you are an Alien! We Love Reading your Feedback.
Join us on Twitter and Tweet about our VR Games : https://www.twitter.com/maysalward
Reach us on our official website: https://www.maysalward.com
To fully enjoy this app you'll need a Cardboard viewer. Learn more and get your own Cardboard viewer at http://g.co/cardboard. Share your experience with your friends.
Show more
Detailed Information
Updated
November 04, 2015
Min. Android version
Android 4.0,4.0.1,4.0.2
Developer
Reviews
4.7


3
Write a review